Mexico, the new music streaming Mecca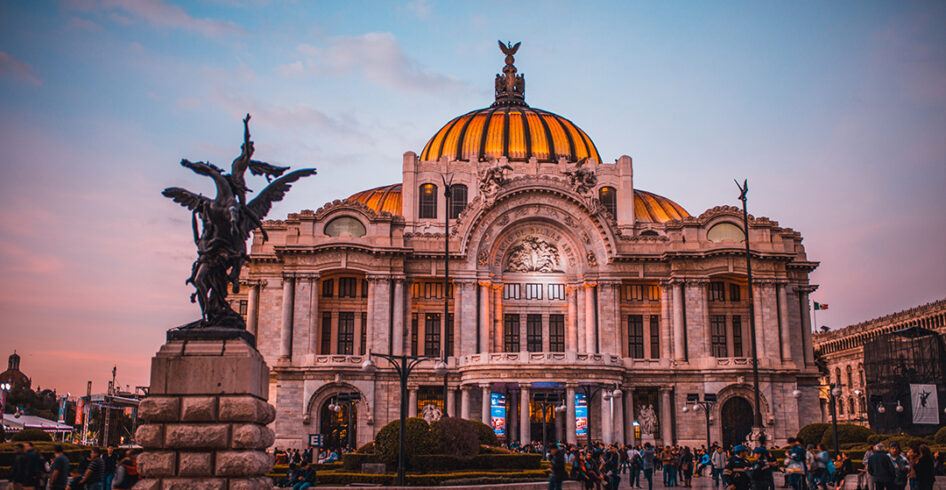 We've been hearing about Mexico's increasing relevance in the music industry over the past couple of years. It's capital, Mexico City, was lately considered by Spotify's as the new World's Streaming Mecca, moreover, Spotify chose Mexico City to be the host city of it's first ever Spotify Awards– where exclusively user-generated data will determine the categories and winners, providing a true reflection of what fans are listening to. Let's take a closer look into this exciting region.
A MASSIVE AMOUNT OF MUSIC FANATICS
With over 22 million residents, Mexico City is a multicultural giant more populous than both the greater Los Angeles and greater New York City areas, respectively. According to the latest IFPI Music Listening Report of 2019,  62% of Mexicans listeners define themselves as "music lovers" or "music fanatics", spending an impressive amount of 25,6 weekly hours (on average) listening to music –a figure considerably above the global average of 18 hours a week. Moreover, such listening habits have been also accompanied by a steady increase in smartphones penetration and lower prices of the overall telecom market.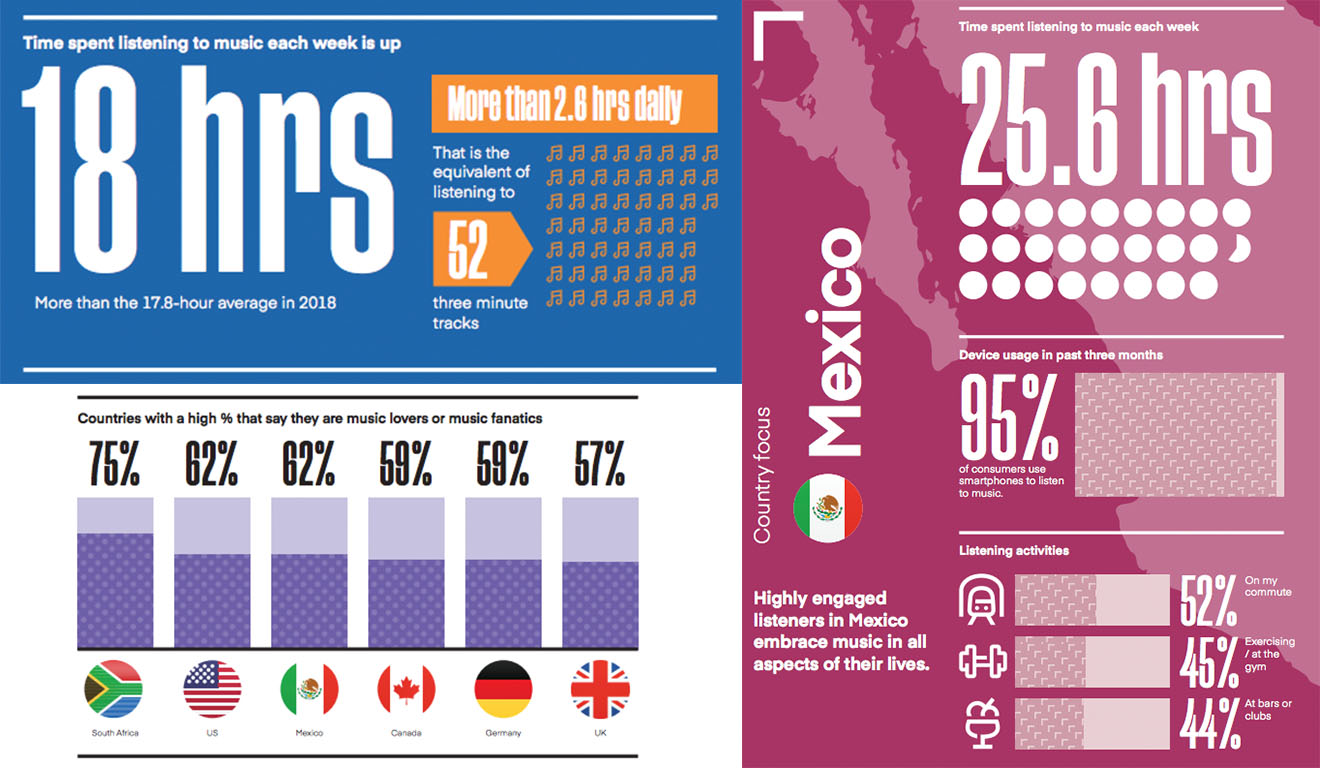 Source: IFPI Music Listening Report 2019

On the other hand, as agreed by Tomás Rodriguez –MD of Warner Music México– and Will Page –Director of Economics for Spotify–, there's one final synergy that gets mostly overlooked. Such "secret sauce" was born out when Mexico's strong tradition of supporting local artists met the endorsement of such artists who got behind Spotify right after their launch in 2013, resulting in three years of impressive growth which does not seem to stop.
So far, it seems like a perfect recipe for the success of a streaming service. Specially if we consider recent moves by major players in the industry to tap this highly engaged audience. Over the last two years, Google and Amazon have launched their respective streaming services, YouTube Music and Amazon Music, focusing on a strong push of their smart speakers Google Home and Echo. With ad-supported free tiers, specially curated playlists and full language support, it will be definitely interesting to see how the market responds -keep in mind that Amazon's strategies have taken their streaming service to reach 55 million subscribers through their tiers.
LIVE CONSEQUENCES
This undeniable growth has certainly had impact in the country's live music sector. Because the great amount of data available to artists, labels and managers –continuously evolving to actionable insights thanks to tools like Spotify for Artists – have taken a considerable amount of top acts into making Mexico a priority destination for live performances. 
This becomes very evident ahead of the annual Corona Capital music festival. According to Spotify's data, Mexico City is the No. 1 city in the world for the festival headliners: Imagine Dragons holds 995,940 monthly listeners, Robbie Williams 322,851 monthly listeners, The Chemical Brothers 117,190 monthly listeners, and Nine Inch Nails 75,142 monthly listeners. 
This trend not only applies to English-speaking acts. Acts like Mon Laferte (Chile) and Diamante Eléctrico (Colombia), have also taken this path after realizing Mexico City holds their biggest amount of listeners worldwide. Last but not least, Mexico's passion for Rock music has also influenced tour decisions of cult bands like Pixies, whose streams saw a 346% spike in the country just weeks before a series of performances in Mexico City. Gorillaz, holding 423,023 monthly listeners, decided to play the last shows of their tour in Mexico. Indie artists like Hippo Campus have also joined the ride: after discovering in 2017 that their biggest fan base was there, they decided to make a live performance in May 2018, which has certainly fueled their popularity, holding now over a million monthly listeners worldwide.
Certainly Mexico's current context and music culture create a great opportunity for independent artists and labels around the globe to explore and approach a highly engaged audience. If you are interested in getting the most out of your catalog by being present there, SonoSuite allows you take full control of your digital supply chain, ensuring transparent and efficient delivery, tracking, reporting and royalty collection of your content. Grow your digital business now!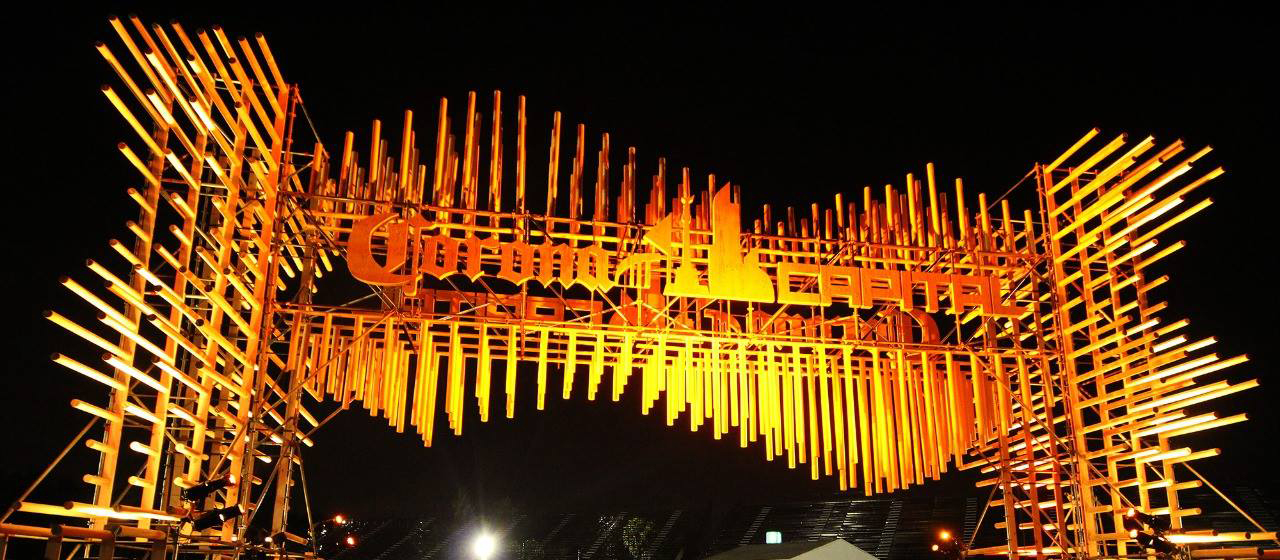 THERE IS A B-SIDE TO THIS RECORD
Regardless of the expected optimism around the latest numbers of this territory, there is still a latent concern within the industry regarding piracy in Mexico –mainly now on the verge of the new NAFTA/USMCA trade agreement. In recent years, the World Intellectual Property organization (WIPO) partnered with the American Chamber of Commerce of Mexico (AmCham) commissioned a study to look deeper into México's piracy situation. The results, which can be found here, state that piracy has cost, as of 2014, $2,6 billion, which represents circa 34 times the 2015 budget of the Mexican Institute of Industrial Property (IMPI). However, concern is not focused as much on the figures as in the culture itself. The study finds that around 36% of Mexicans have downloaded pirated content in the last year –the number increases to 56% for TV shows and films–, at least once a month, and such individuals have a clear perception of piracy being something "illegal, but not serious". Those surveyed placed piracy as a less serious offense than stealing a piece of bread or telling lies.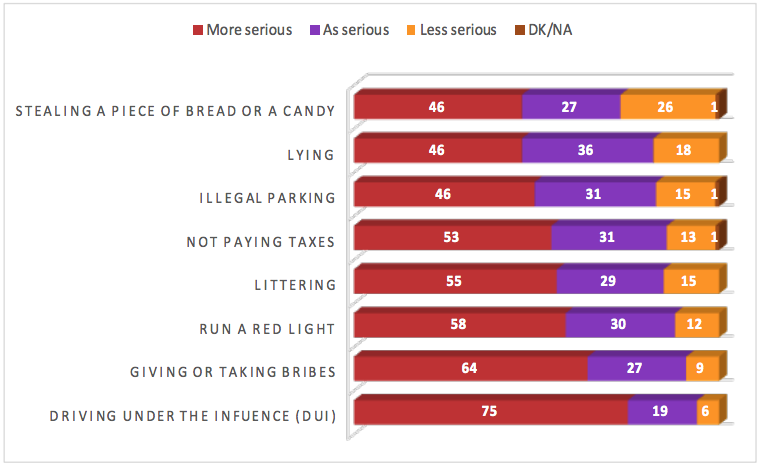 Source: WIPO / AmCham – The Study Of Piracy: "Understanding The Shadow Market In Mexico"
Perhaps the most important finding of this study is that, out of those surveyed, it was those who fit the definition of High Consumption –from 15-34 years of age, high level of education, internet use and purchasing power– the ones that represent this "illegal, but not serious" stand on piracy. They display a deep ideological and aspirational responses to piracy, mostly based on the rise of the internet, and the gap between the cultural and financial value they place on digital content. This is a common situation in emerging markets where late and limited access to the financial system (credit cards) at the time of the rise of iTunes and digital downloads, made most consumers within this market "skip forward" that transition from pay per track/album to a paid streaming subscription. 
Even the most expanding and promising territories in the global streaming landscape can not seem to escape the unwillingness of a still considerable part of the population around the world to pay for digital content. 
NOTE:
It comes at no surprise then that Spotify has decided to hold their first ever Spotify Awards in Mexico City on the 5th of March 2020. The Awards will be broadcasted live on every Spanish-speaking country in LATAM via TNT. Surely an event to keep an eye on!