New look, same vibes | SonoSuite unveils a new brand identity and website
After many years in the digital music tech industry, empowering independent businesses worldwide and growing as a creative team, we thought that now it's the perfect time to write a new chapter in SonoSuite's history.
That's why we decided to revamp our company's identity, alongside our website, blog, and social media channels.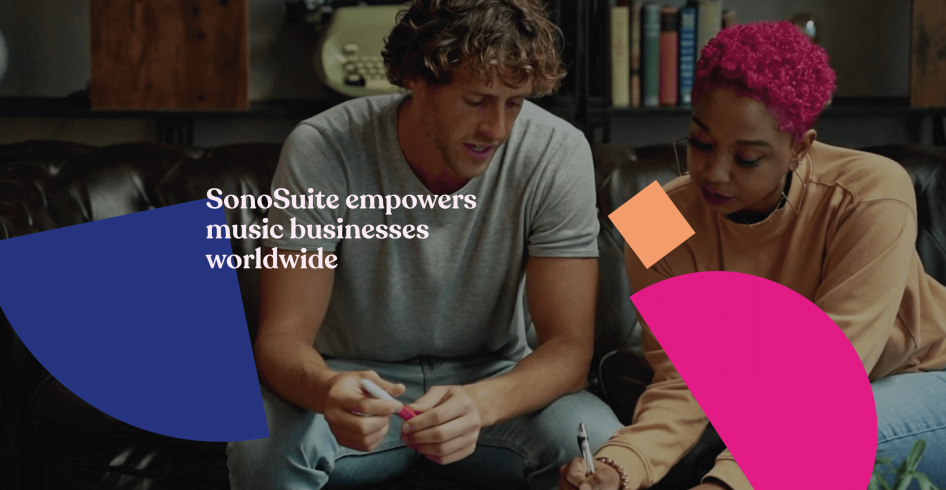 We're rolling out a new look, but keeping the same vibes!
We're thrilled to share SonoSuite's new look with you!
During the past months, we've been working hand in hand with the talented art director and graphic designer, Quim Marin, deconstructing and readapting our existing image.
We came up with a completely new, refreshing, and exciting look, but always staying true to SonoSuite's unique spirit: Our love for music & technology.
Our brand has undergone a significant transformation, but true to what makes us unique.
What can you find on our brand-new website?
If you liked SonoSuite's website, we're sure that now you'll love it even more!
Our goal through this journey has been to redesign our brand identity to make it even more appealing than before, but also to create a website that's more user-friendly and dynamic.
See what news you can find in our new website:
A dynamic user experience.
An in-depth understanding of the platform's tools.
A closer look at our "human side": Our international team.
Let us introduce you to the key elements defining SonoSuite's new website…
Features | A unique white-label platform for music distribution businesses
SonoSuite has been designed as a white-label SaaS solution aimed at record labels and distributors that want to manage their digital music distribution with full flexibility.
What does this exactly mean? Well, we offer the technology, and you use it to manage your own music business.
Our technology allows you to set up and customize our platform according to your business needs, using your brand and domain, and to make it grow by delivering your catalog to over 220 DSPs around the globe, keeping track of your artists' royalties, and managing payments at any given moment.
Discover in our brand-new website all tools we offer to music companies looking for global expansion.
How it works | Enter Noah's world to discover how to make the most of SonoSuite
We love songs that tell great stories. This is why we want you to meet Noah, a music business owner like you who wants to expand his distribution company worldwide by using SonoSuite.
Noah's journey starts when he sets up his distribution business through our white-label solution.
SonoSuite lets him organize and deliver his catalog to the most popular DSPs in the world without intermediates, and also review his sales and revenues. month by month. But running a music business is much more than that.
Enter Noah's world to see his daily routine and how he uses our platform to manage his digital music distribution easily and efficiently.
About us | Where music and tech experts share a vision: This is our story…
Music and technology are the foundations of SonoSuite, but it's the people behind this innovative project that's really keeping the beat. Our team of experts is what makes everything possible.
We play, listen, and work with music and love to share with you our passion and vision about the music-tech ecosystem whenever it's possible, whether it's through the services we provide with our technology, the expertise we offer during our Quality Control process or by giving some marketing tips for businesses in our blog.
Read about what brought us to where we are today.
SonoSuite's blog, your place to find the latest digital music and tech news
We believe that being up-to-date with the latest music industry news is essential to position your brand at the top of this thrilling, yet very competitive industry, so this is why we've also repurposed our blog page, so it's easier for you to find information that is relevant to your business.
In our brand-new blog, you can find music tech news, stats, market highlights, events, DSPs announcements, or pieces covering the trends shaping the digital music industry right now. Don't miss a beat!