Free booklet: How to start and grow your digital music distribution business
Getting into the digital music industry as a distributor and positioning yourself at the forefront of this evolving market can be a real adventure.
The digital distribution sector is a competitive one, but if you hit the right note, you can make a great profit and set yourself up for long-term success by becoming an integral piece in providing countless opportunities to independent artists and record labels that want their music to be streamed by the masses worldwide.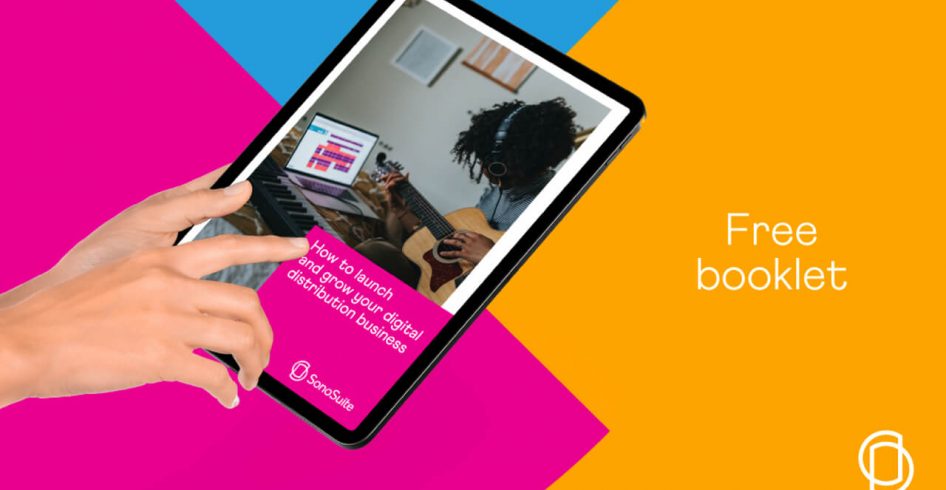 The numbers speak for themselves:
The global music streaming market is projected to grow to $45.31 billion by 2026.
And not only that, music lovers from around the globe are hooked to music streaming.
Users in the U.S. alone spent 23 million hours from January to October last year listening to music on digital services like Amazon Music, Tidal, and Spotify (channels integrated into SonoSuite for music distribution).
We estimate that this figure will increase in 2023.
This is evidence that the digital format right now is the dominant option for music consumption, distribution, and revenue acquisition.
How to create your own digital music distribution service – Free booklet
Do you want to start and grow your own digital music distribution company, but aren't sure where to begin? We've got a treat for you!
We've created an exclusive booklet that you can download for free that includes the best strategy to take your music distribution to the next level in four simple steps!
Discover how to:
Set up your digital music distribution business.
Manage finances with different sources of income streams.
Generate a positive cash flow and reinvest in your artists.
Develop a glocal mindset and reach your target audience.
In our new booklet, you'll also find useful information about creating a 360º distribution service, making your music catalog available on the world's best digital music stores and streaming platforms, and building your company's profitability.
Running a successful digital music distribution business
In addition to this exclusive booklet, we also want to provide you with the necessary tools to manage your own digital music distribution business and expand it worldwide.
Our white-label SaaS platform allows you to take control of your catalog distribution and royalty collection and reporting, connecting you with the world's leading Digital Music Services.
Empower your music company with SonoSuite now!