Music industry trends and predictions for 2023
A new year, 365 opportunities to thrive in the music scene.
As we enter 2023, we wonder what this year holds in store for the music industry and what trends and players will define the business.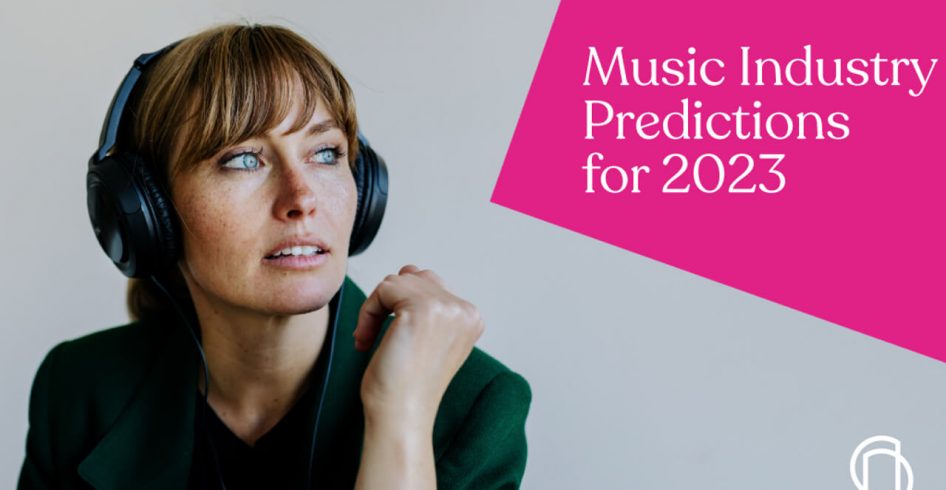 Digital music, a growing industry in a slowing global economy
Looking back at how the global music industry performed in the last 12 months across different areas including distribution, rights, and live performances, we see that 2022 was a very consistent year thanks to the resurgence of the live music industry and the consolidation of the streaming.
Digital music sales worldwide alone cracked the $27 billion mark in 2022.
Users spent quite a lot of time listening to music online, according to the last report by Comscore.
During the first 10 months of 2022, music lovers spent 43.1 billion hours streaming music-related content.
These figures indicate that the streaming business, despite the long debate about its complexities related to rights data, remains the top option for music consumption and distribution, and will continue defining the music industry in 2023.
Market analysis: The trends that will define the music industry in 2023
What will be the trends, markets, and streaming apps shaping up the music business in 2023?
Find it out below in our music market analysis.
Streaming, the music industry's biggest superstar
Online music streaming will remain the most dominant form of music consumption this year.
Looking at the most recent figures, we see that users' interest in online music keeps growing.
Last year alone, from January to October, Americans spent 23 million hours listening to music on digital services like Spotify, Tidal, or Amazon Music.
Not only that, 2022 was a fantastic year for subscription streaming revenue growth.
The number of global users who subscribed to streaming platforms increased exponentially.
According to the latest statistics provided by IFPI in their 2022 report, the streaming format accounted for 65% of total global recorded music revenues and 80% in strategic markets like the U.S.
In Q3 2022, music tech giant Spotify hit 195 million paid subscribers, adding 7 million subscribers in just one quarter.
The reason behind this growth is simple: Streaming gives music lovers the chance to have unlimited access to the content from the artists they love anytime they want, regardless of their location and timezone.
They can also discover the latest releases and emerging artists with just a few clicks.
Overall, this is a clear indicator that the demand for (free and paid) music streaming will stay strong in 2023.
Online distribution, the top choice for labels, aggregators, and distributors
The digital format was the preferred option for music catalog distribution last year, and reviewing the numbers, it seems that it'll continue to be so in 2023.
The online music streaming sector hit a major milestone in October.
This eye-popping fact was spread all over the music news back then: Approximately 100,000 tracks are being uploaded to streaming platforms every day.
In fact, thousands of these releases were made through SonoSuite's white-label platform.
Tons of labels, distributors, and aggregators from around the globe chose our SaaS technology to upload the content from their artists' catalogs independently and generated over 5 billion streams on popular DSPs like Amazon Music, Apple Music, and Spotify.
While many music businesses will continue to use part of their resources in physical distribution, looking at the latest figures, the biggest part of their investment this year will probably go to digital releases.
Many of them will also consider using white-label services like SonoSuite to have a bigger control of their distribution and royalty collection.
Once again, the reason behind this is simple: The digital format allows independent labels and distributors to add their artists' music to the world's biggest streaming platforms and reach audiences worldwide, competing in the same league as the majors.
Music, social media, video streaming, and gaming
The online world is connected thanks to music and this connection will continue in 2023.
The value of music in digital content keeps growing.
In the last two years, we've seen that sound has been an integral part of the content shared online.
Every day, more and more artists and music businesses use social media channels, video, and gaming platforms like Facebook, YouTube, Twitch, TikTok, or Instagram (channels integrated with SonoSuite) as launchpads to promote their content: New releases and older songs from their catalogs.
These apps will continue being core to help users to discover music in 2023.
Even companies outside the music business are using licensed songs to enhance their brands' storytelling online.
Adding music to content helps brands to improve their narrative, but also connect with the right audience.
Here's a killing fact: 65% of TikTokers prefer content from brands that use music.
User-generated content (UGC) featuring licensed songs is on the rise too, particularly on social media platforms like Instagram and TikTok or live streaming gaming apps like Twitch.
Online creators use music in their videos to provide better quality content, visually express themselves, and connect with the community.
Music-related UGC will generate around $6 billion by 2023.
Younger generations, Millennials and Gen Z, are digital natives and love to communicate visually. They're the most active group when it comes to creating and consuming UGC.
They also spend more on music than any other age group.
Millennials and Gen Zs spend $157 per month on streaming services, music, and gaming.
Looking at the current activity in social media and other digital channels, it's clear that these music trends will remain in 2023.
Do you want to expand the reach of your catalog and increase your royalty revenues by distributing your artists' content to several streaming services and digital stores?
Here's a list of platforms (integrated into SonoSuite) that we believe will be crucial to the music industry's growth this year:
Social media channels: Facebook, Instagram, and Pinterest.
Video apps: YouTube, TikTok, Tencent, and, Vevo.
Music streaming: Spotify, Apple Music, Tidal, Pandora, Deezer, Kanjian, and Amazon Music.
Gaming: Twitch (Soundtrack) and Facebook Gaming.
The top music markets in 2023
What will be the most profitable music markets in 2023?
All-time strategic markets: The U.S., Canada, Europe, and LATAM.
Emerging markets: Sub-Saharan Africa, the Middle East, North Africa, and China.
North America
Looking at the state of the global music industry last year, it's clear that North America was the most powerful music region in the world and will keep its throne this year too.
The U.S. recorded music industry generated $7.69 billion in H1 2022 alone.
LATAM
LATAM also was one of the main contributors to the world's recorded music business' growth in 2022, with Brazil, Mexico, and Argentina as the main muscles running the industry in that region.
Not only that, Latin music is on the rise. The genre currently generates 6.6% of U.S. recorded music revenues.
LATAM will keep its dominance in 2023 as well.
Europe, the Middle East, and North Africa
Other strategic regions like Europe, the world's second most profitable music market, with Germany, the U.K., and France leading the game, and the Middle East and North Africa climbed in 2022 thanks to streaming.
Digital services in those areas will continue to be essential to the growth of these regions' music economy.
The Greater China area
Looking at the latest figures, it's clear that the music landscape in the Greater China segment, which includes China, Taiwan, and Hong Kong, is developing at a rapid speed and will be one of the hottest markets in 2023.
In the last few years, the Chinese recorded music market has tripled its revenues.
This success has been caused by the rise in the usage of local streaming apps, mostly the ones owned by Tencent (KuWo, QQ Music, and KuGou) and Kanjian, a channel connected to SonoSuite.
Despite the recorded music sector in China still needs a long way to go to compete with the likes of the U.S., Germany, or Japan, the fact that it only needed a couple of years to reach one of the Top 10 positions in IFPI's 2022 ranking, shows that it'll be one of the music markets to watch for in 2023.