A new way to play: Exploring the crossover between independent music & gaming
Music has always been closely connected to gaming. In the streaming era, the relationship between these two industries has strengthened exponentially.
Nowadays, there's a new way to play music and games.
Every day, more and more artists and music companies are tapping into the gaming world looking for business opportunities and to create meaningful connections with audiences.
Gaming and live game streaming in particular are becoming increasingly attractive to music industry professionals.
And for a good reason. In the past two years, the video gaming sector has positioned itself at the top of the game (pun intended!) as the largest and most profitable entertainment industry in the world.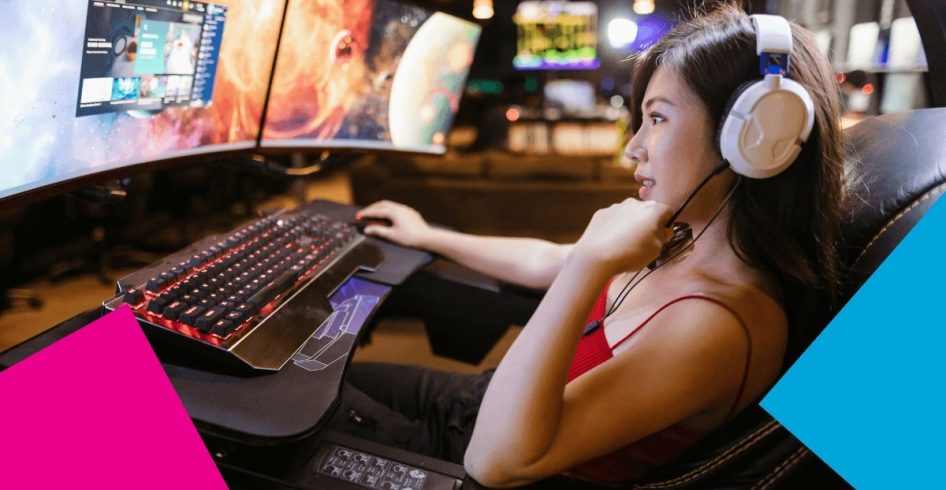 Music and online gaming: A global business worth billions of dollars
Gaming currently is the leading source of entertainment and a very lucrative market worth billions of dollars.
It generates more revenues than the film and sports industries combined together.
In 2021, the global video games industry was approximately worth $229.16 billion, according to a recent study published by Fortune Business Insights.
And the sector is projected to grow even more in the future thanks to key alliances with strategic music brands.
The gaming market could reach $545.98 billion by 2028.
There's no doubt that there's immense potential in this industry, in particular within the live game streaming world; many opportunities for music professionals to explore, whether it's through music licensing partnerships to gaming services, content in-game monetization or sponsorships.
Popular game streaming platforms like Facebook Gaming and Twitch are opening the doors to artists and music companies that want to expand their catalog reach and get an extra source of revenue.
Big industry players like Universal Music Group are making a move towards the online gaming world too.
The multinational music corporation recently expanded its agreement with Amazon Music and Twitch, channels integrated with SonoSuite, to foster new opportunities for musicians and labels to engage with audiences, produce exclusive content for these services, and create other commercial opportunities.
Independent artists and companies are also turning their attention to live game streaming services to share and promote their music at a global scale, and develop and monetize fans.
In SonoSuite, we wrote a full eBook about Twitch for Music Businesses with useful tricks to build up and expand artists' fanbases, strategies to improve music discoverability, information about using rights-cleared music in Soundtrack by Twitch, and tips to deliver music catalogs to Twitch via our white-label platform.
Music and game streamers
Music is also becoming a key element for many online gamers.
Some users listen to songs while playing, others discover new releases thanks to their favorite games or while watching other streamers' gameplays, where licensed music is featured (from curated playlists and stations), and some love to share music recommendations with their gaming community fanbase.
In fact, according to the latest MIDiA Research in partnership with Twitch, online multiplayers from places like the U.S., Australia, Canada, Brazil, South Korea or the U.K., are more engaged with streaming songs than music service subscribers.
They are also more likely to get music merchandise compared to subscribers from streaming platforms (13% vs. 8% in 2020).
The crossover between music and the game streaming culture is so powerful that it has inspired many music platforms, brands and associations to plunge into the world of online gaming.
Following are a couple of examples.
TikTok tests a live streaming feature to compete with Twitch
TikTok is currently the most popular non-game and non-Facebook-owned app.
In H1 2021 alone, the app by ByteDance was downloaded more than 380 million times, but its journey to digital stardom hasn't finished yet.
A few weeks ago, it was reported that TikTok is seeking ways to improve its live streaming strategy in order to compete with online gaming giants such as Twitch.
To do so, the service is testing a new PC game streaming app called TikTok Live Studio on a bunch of Western markets. The app could be released worldwide in the near future.
This new software allows TikTok creators to stream directly from TikTok Live by using the same account and from different devices, including PC, mobile phones and gaming consoles, and connect with viewers through the chat feature.
Merlin and Twitch seal strategic deal to empower independents
Even though many users believe that Twitch is a platform mainly aimed at gamers, the American live video streaming service offers plenty of opportunities for independent artists and record labels to promote their music catalogs.
The latest music association joining forces with Twitch is Merlin, the digital rights music licensing organization for independent labels and one of SonoSuite's key partners.
In early February, both brands announced a strategic partnership consisting in creating revenue earning and marketing opportunities for Merlin members, including more than 20,000 labels worldwide and their artists.
This historical deal will help Merlin members to connect with new audiences and grow in Twitch, and easily promote their content through live streams and different tools, including the recently launched artist incubator program.
Deliver your music catalog to live game streaming platforms using SonoSuite
SonoSuite's white-label platform for music distribution is connected to more than 220 channels worldwide, including live game streaming platforms like Twitch as well as Facebook or YouTube, which are connected with Facebook Gaming and YouTube Gaming respectively.
If you want to deliver your music catalog to these services, get in touch with us now!